Sorry I've been so scarse, I don't know if anyone even reads this things regularly.
HELLOOOOOO, World, Is anyone out there? Is this thing on???
Anywho, my grandfather is still in the hospital but thankfully out of ICU since yesterday evening, they are however proposing about a week of inpatient rehab before he finally comes home.
Sometimes I wished I lived alone.
Always: I'm blessed with wonderful grandparents who allow me to live with them while I pay down my debt and charge me little rent.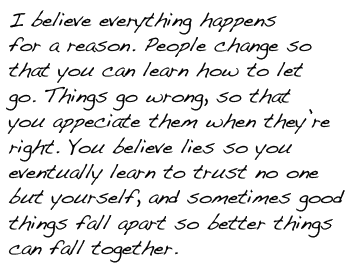 Sometimes I wished my life turned out differently. I thought by 25 I'd be married, with kids and a SAHM. Oh and did I mention my mom would be alive?
Always I realize everything happens for a reason even if you don't understand it now.
Sometimes I'd liketo lose 10 to 20 lbs.
Always I realize I will never be my high school weight again, let it go girl, let it go!
Sometimes I dislike the MD weather. It's currently 50 outside but yesterday it was 40 and snowing even though the weather man only called for rain.
Always I couldn't imagine living anywhere else, I couldn't be without my family or my steamed crabs.
Sometimes
I wished I was a better, more famous, more popular blogger. IE Mrs. Raven (Mama's desire and Pacifiers.
Always:
I realized I'm not as funny, witty or charming as her and therefore I will continue to blog as the true me and if people don't like it or don't read it thats ok too.
And just a little thought of the day, with everything going on with my grandfather please please PLEASE everyone remember to be greatful!! Nothing is promised and even something realitively minor can become something rather large ie my grandfathers 3 days surgery/hospital stay turning into a 6 days stent in ICU.