I'm going to talk about the topic everyone REALLY wants to know but no one will talk about: MONEY. Deep breath ladies, nothing to serious though. Since I've been in High School I've been lucky enough to always increase my yearly income usually by leaps and bounds. This year was a bit different, as many of your know I took a decent pay cut to come to my current job. However, the pay cut I did take hasn't been felt just yet and chances are by the end of the year I'm on track to still make more then I did last year with bonuses and overtime. Either way, I've never been great with fiances and once I realized the ridiculous amount of money I spent a month, I resolved that although for me to stop shopping isn't an option I could spend my money in a smarter way. I try not to buy ANYTHING without a discount, coupon or coupon code, even my bras from Vickys I get with any little cards they send me or if I'm really lucky semi annual sales.v
Anyhow, after recently being paid (see today) i realized I could no longer afford to employ Dr.Murad to clease my face. My face is pretty pissed off and I haven't seen it this bad EVER. I know the problem is I switched from my highly expensive but skin controlling Sanitas brand. Ladies if your looking for a new cleaser, toner, moisturizer and have a little extra cash I'd highly recommend Sanitas. I learned of the product while in Florida for work after getting a facial when my skin freaked out in epic proportions. After running out of my beloved I switched to the more accessible Dr. Murad however, he's not my friend as mention before. So I decided after shopping ebay and price comparing I was left to pay the sticker price of $20-30 per cleanser. I ordered from Pharmaca.com and with a coupon for retail me not (coupon code: KIWI20 for 20% off) and there free shipping offer I was able to have about $30. SCORE!
I love retail me not for coupons, not only does it tell you how successful others have been with the same coupon. They also have coupons for EVERYWHERE! Gap, Target, Kohls, Victoria Secret and much more! I always check this site before I buy anything online or in a store, I figure it can't hurt to try.
So where is everyone's favorite place to shop? (I'd love some suggestions of new trendy affordable places)
I love to have things others don't have so i LOVE etsy! I also shop at Overstock, Target, The Loft, Hobby Lobby, Red Envelope and Pottery Barn. I'm also eyeing up a duvet cover from Urban Outfitters as pictured below.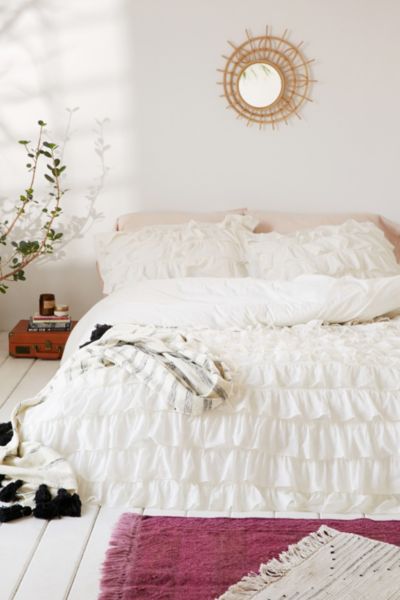 I was thinking turquiosey/tiffany blue sheets. Something way different then my typical girly girl pink! It's a bit of a tribute to my mom whose favorite color was turquoise. I've been missing her something crazy, lately.