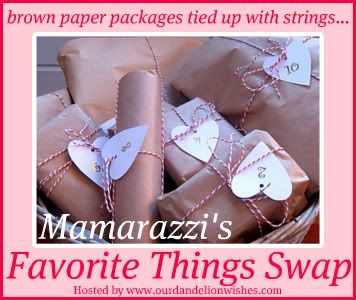 This was hands down the best swap I've participated in thus far. My partner was the lovely Mrs. Sara @
Simply Sara
, not only did she pick I would've bought myself but things I was thinking of buying. Did I mention she has the cutest packaging, hello craft with hot pink twine FABULOUS!
I recieved 8 packages (all numbered and with a cute card explaining each).
1.Birthday cake oreo's (I was looking for these)
2. Swiss Miss colored marshmellow oreo's- again how neat!
3.2 packs of gum
4. A cotton candy lollipop
5. Starbursts in only red and pink ( LOVE these)
6. 2 nail polishes from Essie (a pink and a pinky orangy color)
7. A pink water bottle
8. A post it to do list (I love post it's and use a to do list daily, SCORE)
9. A pink tape dispenser
10. A pink candle