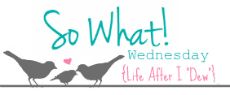 So WHAT..
If my family no plans for the 4th, I'm enjoying my day off by relaxing and looking for a PT job.

If I've been antisocial, PMS and my impending period do this to me. (Sorry if it's TMI)

If I just got paid and paid all my bills today, I always pay first and play with what moneys left.

I'm not working on my tan today like 10000000 other people, it's going to be 100+ in Baltimore today.

If I'm on not one but TWO dating sites, I'm determined to at least make an effort to find Mr. Right. These days I liken dating to hunting a bear, with proper preparation, tracking and ammo you too can be married someday. Right? Right?